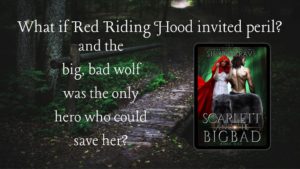 Title

: Scarlett and the Big Bad
Series
: Fate Fairytales 1

Author
: Sierra Brave

Release Date
: March 9, 2021 
Tagline: What if Red Riding Hood invited peril, and the big bad wolf was the only hero who could save her? 
Blurb:
Promised power and position, Scarlett Capuche left her tiny village to join the prestigious Order of the Phoenix.
Brooding alpha, Monty Blackwolf never wanted a mate, especially not a human raised on a hidden farm for blood-ritual sacrifice. But his werewolf's heightened sense of smell drew him to Scarlett's sweet fragrance from miles away.
Duty-bound to protect her, he will break her of her religious devotion to the magical terrorist group responsible for the murders of his parents and older brother, even if he has to put her over his knee and turn her bottom as red as her hair.
She belongs to him now, and he will claim all of her despite his affliction with a unique, third shifter-form he doesn't fully understand and isn't able to control.
Will Monty save Scarlett, or will he prove more dangerous to her than anyone else?
Author's Note: If you're offended by steamy fairytale retellings with graphic language, explicit put-you-in-the-moment love scenes, elements of power exchange, and domestic discipline, you might want to look for a different book. 
Buy Links: (Available for pre-order until release date 3/9/21)
Amazon US: https://www.amazon.com/dp/B08VS2SS2N
Amazon UK: https://www.amazon.co.uk/dp/B08VS2SS2N/
Universal Link: https://books2read.com/u/mKyePP
Excerpt: (PG-16ish) 
"Elosha warned me. She said there would …

Read more→