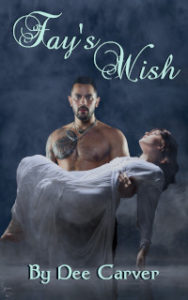 Available on Amazon
Fay's Wish |
Universal Book Links Help You Find Books at Your Favorite Store!
(books2read.com)
Blurb
Shayla, Princess of the Fay, must begin the journey to discover her true power by leaving the island. If she's successful, she will become queen. Her plight won't be an easy one, for there are those who would use Shayla as a means to solidify their own position of power.
Kyle, Shayla's guide in the human world, is destined to bring hope to the Fay even though his own future seems bleak. With Kyle by her side, miracles can happen, offering the promise of the return of the magic.
Once that happens, nothing is impossible.
TEASER
As I entered the garden, the smell of succulent roses and jasmine infused me. I continued upon an emerald and ruby path, glinting like a wine-filled goblet. Gliding over pearls and bright quartz, I headed for the waterfalls, the soft lining of moss caressing my feet.
My heart faltered. He was human.
Excerpt
"What do you see now?"
He was still in the pool of water. I was struck with a horrible idea. "I need to ask you a couple things first."
"Anything, sweetheart."
"Can you see where I am now?"
"You are lying on a huge bed made of silver and wood."
It was as I feared. He could see what was around me. "You mention relaxing, right? Are you asleep, dreaming your bath, or awake?"
"Awake. Aren't you?"
"No. I am asleep. We must be very careful. If my people knew you could see where I am, they would punish me and hunt you down."
"You keep speaking of your people. Just who and what are they?"
"I cannot reveal that, but I am a true Princess. I would like to join you, but it is best I do not. The first time we met, what happened to you? Can you explain how you got there, and what happened after?"
"Sure. I was walking through the woods when I saw you under a canopy of trees. You opened your arms to me, and I wanted nothing more than to touch you. The next thing I knew, we were in dark blue water that glowed. After, when I was back in the forest, my clothes were wet and lying on the ground beside me." He paused. "What are you thinking?"
"We are in serious trouble. I will join you in the water, but only for a moment, then I must go. I promise to try and return though. I need to know something, and the only way is when I am awake."
"You make a promise of seeing me again?"
"I do not think either of us could stop, even if we wanted." I did not want to stop. If not for his life being forfeit, I would stay with him as long as the Gods allowed.
"Come and tell me goodbye, then."
I crossed over to him, letting the water soak through my gown, and did what I desired to since we'd first met. Whispering leaning over him, I caressed the sides of his face, and brushed my lips against his mouth. His lips were warmer, fuller, and more real than I ever imagined. He was made for me. Everything I ever wanted in a mate, kept inside my dreams where we could not be hurt.
I jerked away and turned, wishing to end the dream. Awake in my room, I guessed right. My gown was soaked. What we had done affected both physical worlds. This was a gift and a curse, and there would be repercussions. I had everything I could want but was in the gravest danger of my life.
---
La Roe's Curse
Available at: Amazon (For $0.99)
& Various Other Retailers via Books2Read
La Roe's Curse | Universal Book Links Help You Find Books at Your Favorite Store! (books2read.com)
Blurb
When Emerald La Roe ran away 300 years ago, she had not planned to return. However, after repeated dreams from Goddess Morrigan, Emerald finally realizes she has no choice. Emerald not only finds a magical sword waiting for her, but her dead husband also. It seems Stefan O' Duff wants' reconciliation and help to cure the curse they share.
Emerald would rather see him dead than be with him again, she has someone else to consider though. Her new love, Maxwell Howard a werewolf, who through sharing blood with Emerald, now faces the same fate as Emerald and Stefan. For the cure to work, Emerald has to put her hatred of Stefan aside and consent to share his bed again.
Can Emerald put 300 years of anger aside to save them or will she sacrifice all their futures and kill him as she swore to do?
Excerpt
I had thought this over while we had gotten ready and decided the best place to start was at the beginning. "First, my name really isn't Rose Jade. It's an alias. My real name is Emerald La Roe. I was born in the year 1685. I have moved around the world using different names for the last 300 years."
I paused, waiting for him to say something, but he just sat there holding my hand. I looked around the cabin of the plane and saw everyone else was either watching the movie or sleeping.
Continuing, "I was cursed by my husband." That however made him speak up.
"What do you mean, husband?"
"I was married just before my eighteenth birthday; I am sure we won't be running into him considering he died over 200 years ago. As I was saying, I believe he cursed me on our wedding night."
Max interrupted again, angrily this time. "That bastard, on your wedding night?"
I nodded before going on. "Yeah, I know, he was a real gentleman. Anyway, I don't remember too much after that night, until about six years later. I was on a ship bound for Jamaica, it seems I had indentured myself as a slave, I turned 25 on the ship, which is also the same time I felt my powers begin to grow. When I arrived, I started out as a handmaid for the Lady of the house, but when she died two years later, the Lord made me a chambermaid.
He was lord and master of Lyceum Maleficent Hall, which translates into Lord of the Evil Hall. Yeah, I know the name should have tipped me off, but I hadn't realized it was more than just a name until a month later, the first night he beat and raped me. The torture went on for five more years until he died in a freak storm. The reason I call it a freak storm is because the storm season for that year had already passed.