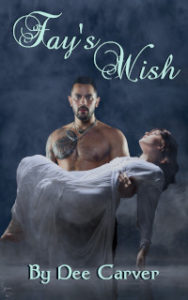 Fay's Wish by Dee Carver
Editor & Cover Artist: Cindy Wieczorek
Available on Amazon
Fay's Wish |
Universal Book Links Help You Find Books at Your Favorite Store!
(books2read.com)
Blurb
Shayla, Princess of the Fay, must begin the journey to discover her true power by leaving the island. If she's successful, she will become queen. Her plight won't be an easy one, for there are those who would use Shayla as a means to solidify their own position of power.
Kyle, Shayla's guide in the human world, is destined to bring hope to the Fay even though his own future seems bleak. With Kyle by her side, miracles can happen, offering the promise of the return of the magic.
Once that happens, nothing is impossible.
TEASER 
As I entered the garden, the smell of succulent roses and jasmine infused me. I continued upon an emerald and ruby path, glinting like a wine-filled goblet. Gliding over pearls and bright quartz, I headed for the waterfalls, the soft lining of moss caressing my feet.
My heart faltered. He was human.
Excerpt
COMING FACE TO FACE
As the plane lifted, I wondered for a second time, how my Father and Fearghus managed to schedule our trip. They must have used all the contacts the Fay knew in the human world. And I yet wondered, if all contact had been broken with humans, how we were staying current with their lives and history. Who would they be in touch with to plan all this in such a short time?
Some of us knew more than others. I remember Fearghus was once questioned about the Elder's vast knowledge of the human world. The reply was orderly. "We own a great deal of property there. We must keep track of it using various resources."
I had not believed the excuse then, and really did not believe it now. How could they know so much and not have an unknown motive? Why the curiosity?
At the airport, Jack, Aine and I took our luggage from the crew. I hoped…no, I prayed the man we were to meet was not my Kyle. I did not want to see his striking face coming toward me and breaking my heart.
The Gods however had their own agenda. He stood, straight as an island tree, eyes wide. My mind numbed and turned to fear for both of our lives, while realization and a look of triumph emerged across his face. I stepped backwards as he strode with intent to us. To me.
"Kyle?" Aine asked, coming up beside me.
"Yes ma'am. You must be my noble guests. I believe I am to show you this." His voice, a melody.
The Gods were in full force. In his hand he held the miniature of the Goddess Morrigan. Trying not to sound giddy and terrified I interrupted, my voice rasping out too harsh, too loud. "Thank you, sir. Shall we leave now?"
"Of course. If you will follow me." The deep timbre was replaced with a cold, professional sound.
I only hoped he would understand why I could not be more open. I thought I saw pain in his cobalt eyes. Oh Gods! Does he not realize this is killing me, too? To have him stand in front of me in the flesh and not touch him, show him how I feel. Knowing I had no choice but to heed my head, knowing an eternal love was growing deep within my chest. To know, even though I could feel his breath on my cheek, I could not lay the barest of caresses on his hand or show him the emotions trying to spill its way from my soul.
We followed Kyle in silence, through the clanging airport and to a sky-blue pickup. My favorite color. The height and ruggedness of the truck seemed out of proportion with my world and our need for secrecy.
After he placed our luggage securely in the uncovered cab, he opened the passenger side doors for us. Aine and Jack climbed into the back, while Kyle helped me to the front. His hand was tense and clasped almost painfully on my arm.
"Sorry if it's not fancy enough for you." There was an odd pause as we locked eyes. "My home is in the hills. Truck and horse are the only way." He smiled as his eyes burned with a craving to inflict as much hurt as he must have felt.
I controlled myself. Barely. Why is he mad at me? I would not have chosen to cause him any more pain then he already faces. He is too bold. I spun out of the truck and plopped into the back next to Jack, pulling him next to me. If Kyle wanted to be childish, I would be childish.
What was it a human would say? Their expressions were stellar. Jack grinned from ear to ear, the heat of his ego rising like molten rock from Fay Mountain. Kyle was cooler than ice, silent in fury. Aine looked confused and hurt. The long ride was uncomfortable. I am not sure who would have broken first. Thankfully, Kyle pulled to the side of the road.