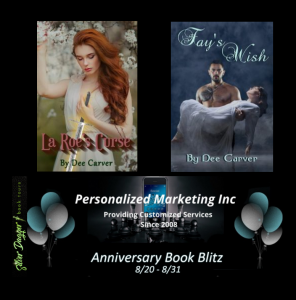 In a few days on August 23rd I will be celebrating my birthday, #PMInc is also celebrating it's birthday this August as well. Every year I try to come up with something for clients and guest. This year we are doing a 10 Day Party where you can enter to win one of the following:
An eBook from the Participating Authors (there will be one winner for each author listed)
Amazon Gift Certificate
A Print Copy of either La Roe's Curse or Fay's Wish.
---
The Curse
Centuries past, during a time of magic, deep mourning, and when men's hearts were darker than the blackest of nights, two men Nathaniel Burundi Stygian and Sebastian Todd Lochinvar made the ultimate mistake of angering an old and powerful witch. She had watched as the two men used wealth and prowess to prey on innocent women; turning their victims' tender young hearts into those of pain and anguish. Determined to teach them a lesson, of punishment based on love, she placed a curse on Nathaniel and Sebastian that reflected their beastly behaviors. They would live throughout eternity knowing their descendants would walk through life facing the same suffering their callous behavior had caused others.  
Time is running out for their descendants ensnared by the curse; the women are dying painful deaths and the men are becoming more like the beast lurking just under the surface. Can the curse be broken, or will it be the end for  …

Read more→