Hi everyone! I decided to do things a little differently this week. Instead of an excerpt from the book, I am sharing a recent Q&A with Silver Dagger Book Tours I had about the story.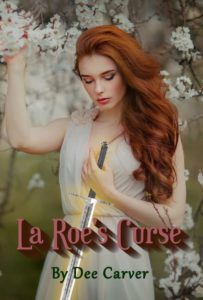 La Roe's Curse
Available at:
Blurb 
When Emerald La Roe ran away 300 years ago, she had not planned to return. However, after repeated dreams from Goddess Morrigan, Emerald finally realizes she has no choice. Emerald not only finds a magical sword waiting for her, but her dead husband also. It seems Stefan O' Duff wants' reconciliation and help to cure the curse they share.
Emerald would rather see him dead than be with him again, she has someone else to consider though. Her new love, Maxwell Howard a werewolf, who through sharing blood with Emerald, now faces the same fate as Emerald and Stefan. For the cure to work, Emerald has to put her hatred of Stefan aside and consent to share his bed again.
Can Emerald put 300 years of anger aside to save them or will she sacrifice all their futures and kill him as she swore to do?
What inspired you to write this book? 
Short answer, I dreamed about a dress, so I wrote the description, characters and then scene.
The long answer is that I did dream about a dress, a wedding gown. I wanted to know more about it, and since I cannot draw one, I wrote it out. Then the woman who was wearing it came forward and why she had it on, which was much more than just a wedding. Then the scene itself played out, where I learned she had been poisoned. From that moment forward Emerald told me what she wanted to say and to whom.
Can you tell us a little bit about the characters in La Roe's Curse?
This question is why character sheets are so important…
Emerald is over 300 years old; she was cursed on her wedding day by her groom and has been spending the last several hundred years trying to survive. Curing herself has never really been her focus, as far as she can tell nothing can kill her short of decapitation, and she is not likely to allow that. She owns her business, sets her hours and for the most part is very self-reliant. The only one in her life that knows about her is Katie, her employee and close friend. Emerald does not like asking for help but when Katie is in danger, she seeks out Max, her competitor.
Max is a werewolf who also happens to have his own detective agency.  Max has both respect and aggravation towards Emerald. He thinks that she can do more than she has been, and it upsets him when she pulls further away. Max is in for a slight surprise at how little he knows about the woman who haunts him at night.
Stefan, what can we say about him…? He is Emerald's Husband; he is the one who cursed her. He is also the only one that can save her. Stefan is much older than Emerald and has had a hard life up to meeting her and beyond. He comes across as the villain for much of the story. However, not everything is as it seems.
Where did you come up with the names in the story?
I name all my characters based on their characteristics. Emerald La Roe has green eyes and red hair. Stefan has black hair and blue eyes. I scour through baby name books, websites, and meaning of words, until I find the one that matches or slaps me in the face.
Do your characters seem to hijack the story or do you feel like you have the reigns of the story? 
Definitely highjacked! You have met Max, right?
He was never meant to be a main character to the story, but he is and a pivotal one at that. I thought that he would be an antagonist but also motivational to her growth as a character. He is and does, but then he became so much more. I can remember arguing in my head with Emerald stating the fact that he's getting to close to her. She of course responded… its my story so tell it the way I want.

Visit me at Silver Dagger Book Tours and enter to win a copy of La Roe's Curse, Fay's Wish or $10.00 Amazon Gift Card
Guest can also get 5% off services provided by 
#PMInc