For those of you who have read the previous excerpts with Violet included, you will understand that the fact Violet is possibly pleased is a a miracle in itself! Violet was a character I had not intended on but became a force to be reckoned with by both the characters and myself.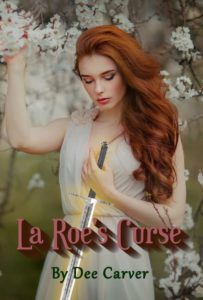 La Roe's Curse
When Emerald La Roe ran away 300 years ago, she had not planned to return. However, after repeated dreams from Goddess Morrigan, Emerald finally realizes she has no choice. Emerald not only finds a magical sword waiting for her, but her dead husband also. It seems Stefan O' Duff wants' reconciliation and help to cure the curse they share.
Emerald would rather see him dead than be with him again, she has someone else to consider though. Her new love, Maxwell Howard a werewolf, who through sharing blood with Emerald, now faces the same fate as Emerald and Stefan. For the cure to work, Emerald has to put her hatred of Stefan aside and consent to share his bed again.
Can Emerald put 300 years of anger aside to save them or will she sacrifice all their futures and kill him as she swore to do? 
Excerpt 
"What I think she is trying to say sweetheart is we can fake documents of your death and then provide documentation of your blood line carrying on through your children."
"That is exactly what I mean, we fake your death and then say you are a descendant of your own. That you did survive to give birth to a girl, who brings the lineage down to you. The fact you are standing here in front of me is the proof."
Max then finished her thought, again. "You, dear Emerald, have given the proof of this very thing throughout your existence, by changing your name the way you did each time."
Really confused now, "What are you talking about, I never used La Roe?"
"When you changed your name and the fact that your looks and coloring stood out, people were bound to have remembered you, not to mention the people who claimed you as their own throughout the years. You provided a lifetime of people who never existed but according to records they will now."
I realized then that they were both right, I did leave a paper trail. If anyone who wanted me dead enough could have easily found me. Holding my hands up in defeat, I conceded to them both. "All right dammit, your right, both of you, I admit you have made your points plain and clear. No wonder I felt the need to move around so much, I just didn't realize I left my enemies a way to trace me until now."
They both went from pleased to concerned immediately. "Oh God, I'm sorry Emerald I didn't think before I spoke." Max said apologetically.
"It's all right I suppose. Now back to my claim of the La Roe legacy. Since my hiding didn't work as well as I thought it did, I suppose you can make or get me what I need to take up where I left off. I also guess I should learn court etiquette all over again, since I will be royalty." You could tell I was upset, but luckily for the both of them they didn't point out my shortcomings again, at least not to my face.
"Well since you never gave yourself a middle name, we can just add La Roe to each name you used throughout time, and it will explain why no one knew you as one, until you came here that is."
Violet now looking pleased with the both us said, "Why Emerald I do believe, you have finally met your match, this man is everything a parent wants for their child. As for this marriage nonsense, I presume you have already used his name."
Man, she was shrewd, I was really beginning to like her though, so I just nodded my head yes and let her continue. "Well then we have no choice but to allow it to continue, I presume you have a marriage certificate?"

Visit me at Silver Dagger Book Tours and enter to win a copy of La Roe's Curse, Fay's Wish or $10.00 Amazon Gift Card
Guest can also get 5% off services provided by #PMInc