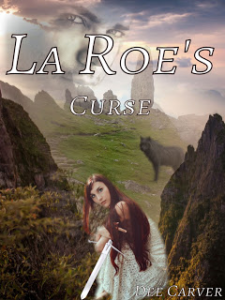 Dee Carver (Author), Cindy Wieczorek (Editor)
Available at:
Amazon and Books2Read
Blurb
When Emerald La Roe ran away 300 years ago, she had not planned to return. However, after repeated dreams from Goddess Morrigan, Emerald finally realizes she has no choice. Emerald not only finds a magical sword waiting for her, but her dead husband also.
It seems Stefan O' Duff wants' reconciliation and help to cure the curse they share. Emerald would rather see him dead than be with him again, she has someone else to consider though. Her new love, Maxwell Howard a werewolf, who through sharing blood with Emerald, now faces the same fate as Emerald and Stefan. For the cure to work, Emerald has to put her hatred of Stefan aside and consent to share his bed again.
Can Emerald put 300 years of anger aside to save them or will she sacrifice all their futures and kill him as she swore to do?
Excerpt 
Before I could think of a way to explain, the knocking started up again.
"Oh, hang on a minute." I could hear him moving around the room, before he finally answered the door. "Yeah what's so urgent?" He sounded upset as I heard the door open.
"I need to change the bandages on her eyes and see how her throat looks this morning, or should I say this afternoon. She also has to drink more of this tea today, about every four hours should do." I listened to Ruby explaining to him.
She reminded me of an old mother hen. Normally I would have found it funny, but since I was the one on the receiving end, I just couldn't see the humor in it.
"Ruby wants to look at your throat and change your bandages, is it all right?" Max was saying while I felt him slip a silk robe on me. I guessed it was the one he gave me, since as far as I knew he didn't have one, not to mention the fact it fit me perfectly. I could feel him watching me, while he waited for my answer, nodding my head yes, I heard him let out a breath I hadn't realized he was holding.
Hearing the door open again, I sat further up in the bed. "Well I was going to change your bandage, but it looks to me that you might want to shower first." I put my hands up to my hair and must have made a noise because I could hear Ruby tisking me.
"Remember no pushing it, but I have to admit that the potion is working extremely fast, or maybe it's just you."
Not knowing what to do, I got up and started to make my way to the bathroom. I felt Max's hand before he said. "Hey, I'll help you take a shower then we can change the bandages, okay?" I nodded my head yes and stood there waiting for him. I heard him tell Ruby as the door opened again. "I'll help her for now. You could make her something to eat though."
---
#CyberMonday Nov 30th until #SmallBusinessSaturday Dec 5th
#CoffeeTimeRomance Special: 50% off Services/Advertising (Minus hosting)
#PMInc 35% off Marketing and Website Design
---