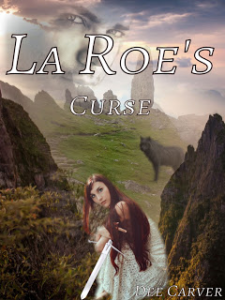 Dee Carver (Author), Cindy Wieczorek (Editor) 
Blurb 
When Emerald La Roe ran away 300 years ago, she had not planned to return. However, after repeated dreams from Goddess Morrigan, Emerald finally realizes she has no choice. Emerald not only finds a magical sword waiting for her, but her dead husband also. 
It seems Stefan O' Duff wants' reconciliation and help to cure the curse they share. Emerald would rather see him dead than be with him again, she has someone else to consider though. Her new love, Maxwell Howard a werewolf, who through sharing blood with Emerald, now faces the same fate as Emerald and Stefan. For the cure to work, Emerald has to put her hatred of Stefan aside and consent to share his bed again. 
Can Emerald put 300 years of anger aside to save them or will she sacrifice all their futures and kill him as she swore to do? 
Excerpt 
Violet cocked her head at him before saying sarcastically. "Calm down wolf boy, or else I'll put you outside." 
I sat there stunned before I had to ask finally. "How did you know? Just what do you know about us?" 
"Why my dear I have the gift of sight and knowledge, I thought you would have guessed by now. I saw you finally returning home and a wolf was your escort, I have to admit though, I did not expect the wolf to actually be a werewolf. I thought you just had a real wolf as a pet. You know it is not uncommon for a La Roe to have a familiar as witches do. 
Your wolf is correct about my behavior though, every vibe I have gotten from you, said you were a sweet girl. I just forgot that in my anger, and for that I am truly sorry. I knew then and still know now you must have had a good reason for not returning, and your reason for still roaming this earth does puzzle me greatly, no other La Roe has been cursed such as you are now." 
I sat there and thought of all she had said, when I noticed the room again; I could swear it was my old room. Curiosity getting the better of me I had to ask. "I know this is completely off the subject, but I just have to know. This is my old room isn't it?" 
"Of course, it is silly child. Well I guess you aren't exactly a child, now are you? Enough of this though, I will allow you two to get settled in, then you may join me for dinner, it is promptly at seven o'clock, and not a moment later, the attire of course should be formal, to celebrate your return." With that, she left the room. 
I looked over toward Max, and he just shrugged before beginning to chuckle. "Hey, don't look at me, she is your family, not mine." He was laughing even harder now.  
"And just what is so funny about that, may I ask?" 
#CyberMonday Nov 30th until #SmallBusinessSaturday Dec 5th
#CoffeeTimeRomance Special: 50% off Services/Advertising (Minus hosting) 
#PMInc 35% off Marketing and Website Design 

Subject Line / Coupon Code: 

CTR-PMInc