Fay's Wish by Dee Carver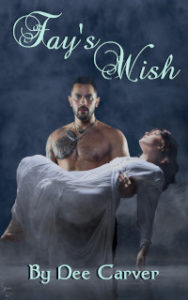 Shayla, Princess of the Fay, must begin the journey to discover her true power by leaving the island. If she's successful, she will become queen. Her plight won't be an easy one, for there are those who would use Shayla as a means to solidify their own position of power.
Kyle, Shayla's guide in the human world, is destined to bring hope to the Fay even though his own future seems bleak. With Kyle by her side, miracles can happen, offering the promise of the return of the magic.
Once that happens, nothing is impossible.
Excerpt
This was a cleansing place, a place to refill an empty soul. Aine and I were not the only ones to be content and amazed. Kyle's breath quickened, while Jack thanked the Goddess for nature's perfect gift. I understood Kyle's revelation. This was where I would receive my gift. I also understood Jack's need to praise the Goddess, for surely her presence was still here, stronger than ever.
Bells chimed a tender whisper on the wind.
"Come to me, Queen Shayla. Come and receive what I have waited so long to give."
"We need to cross the lake now; she is waiting for me."
I pointed to the small, white boat at the edge of the lake. No one questioned its remarkable presence, or my request. They only did as I asked. I climbed in, and once we were seated, Kyle began rowing our way across. I hoped he …

Read more→